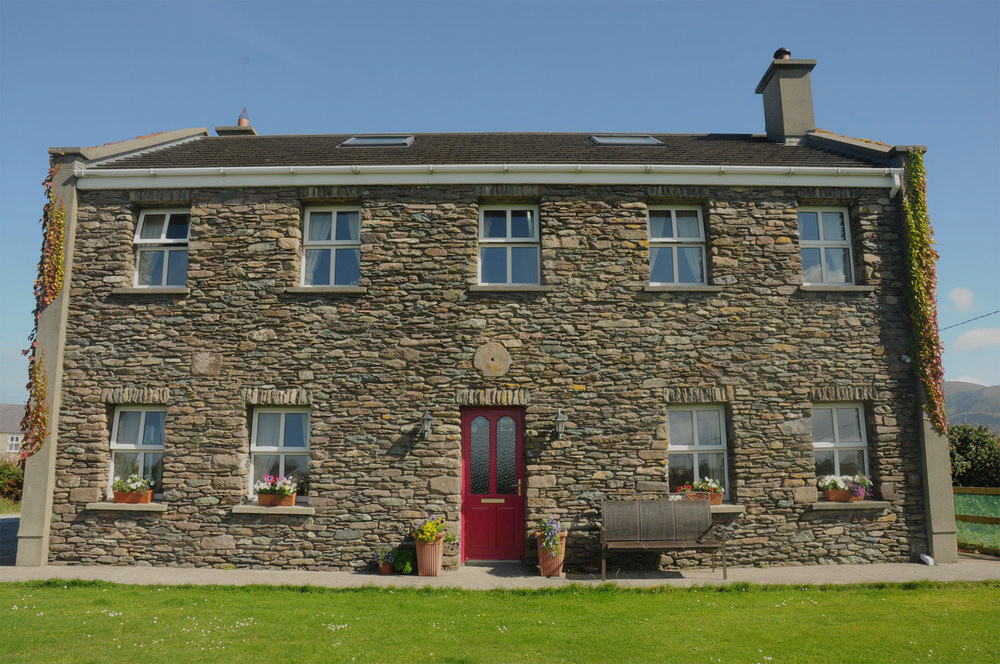 Dingle Peninsula | Corca Dhuibhne | Ireland

An Riasc B&B Sustainability Policy 2022
This document will be reviewed annually at the end of the season
1.   Vision, mission and company ethos
 An Riasc B&B is located on the magnificent Dingle Peninsula on the infamous Dingle Way walking trail which was named one of the most beautiful hiking trails in the world (July 2021, www.independent.ie).  It should come as no surprise then that our core values are to preserve not only the beautiful landscape and environment which surrounds us but also our native Irish language and culture. An Riasc B&B is in the heart of the West Kerry Gaeltacht (Irish-speaking region).
We believe in striving to improve our environmental, social, and economic practises to ensure our visitors can sleep easily knowing they are leaving lighter footprints as a result of their stay with us. We aim to provide a rich visitor experience for our guests whilst also ensuring we engage with and respect the needs of the local people.  We support local businesses and producers at all times.  In the Irish language we say "ar scáth a chéile a mhaireann na daoine" – people depend on one another.
An Riasc B&B is aware that its business activities impact upon the environment and we are committed to alleviating those negative impacts
2.   UNWTO definition
At An Riasc B&B, we believe that sustainable tourism is tourism that takes full account of its current and future economic, social, and environmental impacts while addressing the needs of visitors, the industry, the environment, and host communities (UNWTO, n.d.). We therefore aim to reduce our negative effects and increase our positive impacts.
3.   Continuous improvement
We aren't perfect yet, but we are committed to continuously improving our efforts. At An Riasc B&B we dedicate ourselves to being authentic and transparent as we strive to become a more sustainable business. 
4. Measuring and reducing negative impacts
4a. Energy consumption
To reduce our electricity usage, we read our metre every month and we observe the electricity usage on the bi-monthly bill.  We regularly measure and review our consumption and aim to reduce the consumption by 10% over 12 months. 
We have just changed to a different renewable energy supplier (SSE Airtricity) that produces electricity using 100% renewable energy sources.
We use primarily LED bulbs in our business, but the aim is to replace any remaining halogen bulbs immediately with LED's.
We inform and encourage our guests to switch lights off when they leave any room.
We aim to because have a Switch-Off policy for lighting this season. We intend creating reminders and promotional material to raise awareness amongst staff members and guests to be more mindful of energy use and conservation.
To further minimise the cost of our heating, we intend installing digital stats in each guest bedroom and bathroom. By regularly monitoring the temperatures and by educating our guests on the recommended temperatures for such spaces we aim to further reduce our energy usage by 10% over 12 months.
We have a woodstove in the living room to provide extra heat for our guests on a cold and blustery day.
4b. Water consumption
We have our own well water for which we are SO grateful 😊 So much so that I cannot drink water outside of my home/business unless it comes from a well! Attached to the well is a metre which enables us to read the water consumption of the business.  This year we are committed to measuring the average amount of water used per person per year.  This will be the benchmark on which we will begin making reductions to the amount of water used in the business. We have noted in the past that the well can dry up when consumption of water increases particularly in the busy season.  Our target is to reduce our water consumption this year by 10%. 
We aim to install aerators to the taps to reduce the flow rate of water. We also intend to install inline flow regulators for showers and cistern bags to reduce water consumption. It is important to state that these initiatives whilst helping to reduce water usage will not in any way impact negatively on our customer experience. 
We provide water for our guests in glass bottles, and we encourage them to bring their own non-plastic bottles should they wish to take water out.
We are committed to using environmentally friendly and biodegradable washing and cleaning products and toiletries. We outsource the bedlinen, but all towels are washed inhouse using programs that use the least amount of energy and water.  We are ever so conscious of water and energy usage and so all laundry washed at An Riasc is wind-dried outdoors (we have no shortage of wind in West Kerry) 😊
We aim to educate both our guests and our staff on how they can play their part in making us all more sustainable in our daily lives.
4c. Waste production
We have a kitchen to table policy around breakfast and so we have very little food waste or leftovers. However, our objective is to reduce our overall waste by 20% over the next 12 months.
I have sourced an eco-friendly supplier for packaging as we provide packed lunches to all of our hikers.
I am committed to setting up a wormery this year to help in the decomposition of orange skins which will reduce the weight of the food bin.
I will encourage all our guests to avoid bringing plastic to An Riasc where possible. Not alone that but I aim to provide them with some tips prior to arrival on how they can help us on our journey to becoming more sustainable. We hope that this may inspire them too to be more aware and pro-active in helping to protect our precious planet. 
In our efforts to manage waste properly, we at An Riasc B&B follow the 3R's reduce, reuse, recycle sequence. We try to make it as easy as possible for our visitors to carry out these actions too by having clearly labelled bins available for recycling and we encourage visitors to bring their own reusable bottles for water. 
In our communication with guests prior to arrival, we inform them with the help of a map of the places in Ireland where it is possible to refill water bottles. https://refill.ie/tap-map/
4.   Ethical purchasing in our efforts to reduce waste:
When purchasing goods, we ensure that we use certified products where possible.  We commit to purchasing them within a 50 km radius of An Riasc where possible.  We look for evidence from suppliers that their products are more sustainable to avoid green washing and give preference to certified products where possible
5.   Carbon Management
At An Riasc B&B we are committed to reducing our carbon footprint as much as possible and to offsetting the remainder with a trusted partner within the next 12 months. 
By regularly measuring our energy, water and waste consumption and reducing accordingly we are subsequently reducing our carbon emissions.
We encourage our visitors to stay longer than one night to reduce the need for cleaning and laundry. But this is not the only reason we recommend a longer stay to our guests.  By staying longer our visitors are encouraged to experience nature and all that it has to offer without the need to sit in a car and drive thus reducing their carbon footprint as well as ours😊
6.   Responsible sustainability marketing
We know we can't always get things right first time. We are very aware also of the dangers of greenwashing.  We therefore commit to honestly communicating where we are on our journey and our improvements.
7.   Social responsibility
We support our local community by informing our guests of all the activities on offer to them on the Dingle Peninsula.  We present them with a local map of the peninsula on arrival and we recommend the various archaeological and historical sites to be visited. We also share our local knowledge of the various hikes and bike routes in the area. We are a member of the Dingle Peninsula Tourism Alliance, a voluntary organisation whose main objective is to support local businesses in the tourism industry.  All members share the same goal of helping each other for the greater good of all in the community.  Our vision for the Peninsula for the next 5 years is currently under discussion with a view to ensuring the sustainability of tourism and therefore the future of the people of this beautiful part of Ireland.
8.   Supporting Biodiversity
To protect and conserve our local biodiversity we commit to reducing the number of times we mow a certain section of our lawn.  (My husband loves to have the lawn pristine and so I welcome his support on this😊).  We do have some bees and insects visit us during the summer months, but we aim to source and plant native wildflowers in the same section of the garden to attract even more bees and insects this year.